In memory of a remarkable man…Dr. John Bryan.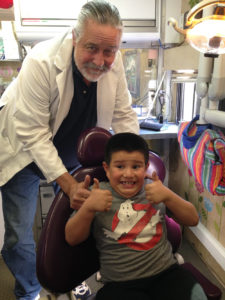 On Easter Sunday, April 1, 2018, a kind and gentle man passed away at his home in Madera, CA.
Dr. Bryan loved working with the children on the dental van and spent hours in kind loving service treating so many children in the four years he worked with us at Healthy Smiles. This photo personifies the man and the doctor and his connection with his little patients.
We will all miss him and are so grateful to have known him
Tooth decay is the number one chronic illness in children – in

California's Central Valley

. It is
five times

more prevalent than asthma and

seven times

more prevalent than allergies!

Thankfully, the Healthy Smiles Mobile Dental Foundation offers a solution!

During our 20 years of service and with nearly $3 million in grants and donations, we have provided more than $12 million (at Medi-cal rates) worth of smiles for more than 50,000 children.

We provide quality service and are compassionate, consistent, and local. We bring our services where they are needed most.
News
Thank you so much to our new partner, The Cigna Foundation, for their help in giving our Valley children healthy smiles.
Read more about their generosity and our partnership here!