Tooth decay is the number one chronic illness in children – in

California's Central Valley

. It is
five times

more prevalent than asthma and

seven times

more prevalent than allergies!

Thankfully, the Healthy Smiles Mobile Dental Foundation offers a solution!

During our 20 years of service and with nearly $3 million in grants and donations, we have provided more than $12 million (at Medi-cal rates) worth of smiles for more than 50,000 children.

We provide quality service and are compassionate, consistent, and local. We bring our services where they are needed most.
News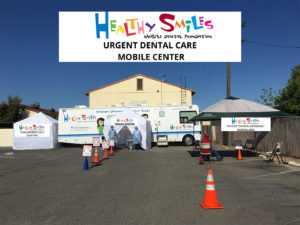 FREE Urgent Dental Care Available by Appointments Only located at Fresno Unified, Central Unified, and Granville-Teague Community Center Sites.
We partnered with Kaiser Permanente to provide FREE emergency dental services for the community.  We have created a program that is safe and effective to provide direct emergency dental services.
Call our office to make an appointment at 559-229-6437.