Tooth decay is the number one chronic illness in children – in

California's Central Valley

. It is
five times

more prevalent than asthma and

seven times

more prevalent than allergies!

Thankfully, the Healthy Smiles Mobile Dental Foundation offers a solution!

During our 20 years of service and with nearly $3 million in grants and donations, we have provided more than $12 million (at Medi-cal rates) worth of smiles for more than 50,000 children.

We provide quality service and are compassionate, consistent, and local. We bring our services where they are needed most.
News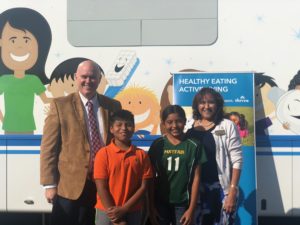 Thank you so very much to Kaiser Permanente for their generous grant that allowed us to get a brand new, state-of-the-art mobile dental unit! Outfitted with the very best so we can treat our children to the very best of our ability, our new van will allow to see and help even more children get their healthy smiles!
You can read about our event here!