December 11th, 2018  | A State-of-the-Art Mobile Dental Unit Thanks to Kaiser Permanente!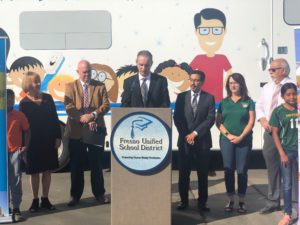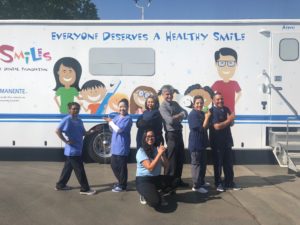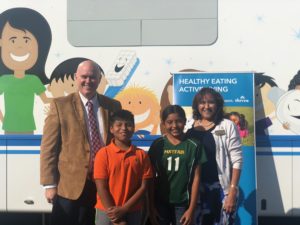 Kaiser Permanente helped us end 2018 with a bang! Thanks to their generous grant, we now have a brand new, state-of-the-art mobile dental unit to add to our lineup! Another van will help us continue to bring our Valley children healthy and happy smiles! An event was held at Mayfair Elementary, one of the very first schools we ever visited in 1994.
It was wonderful to be able to thank our Kaiser Permanente partners in person and allow them to see our work in action. We're so thrilled to be able to continue our work and excited for the future!
You can read all about our event here.
March 3rd, 2015 | Cigna Foundation & Healthy Smiles Partner Up For More Healthy Smiles!
The Cigna Foundation has generously partnered with and granted a grand total of $103,000 to Healthy Smiles to help further our goals of getting proper dental care for our Valley children. With The Cigna Foundation's help, we are proud and grateful to know that we will be helping over 2,500 more underprivileged children in need! We cannot express our gratitude enough and look forward to working together to make more healthy smiles.
Read the Cigna Newsroom Press Release here!
Watch the media release below on Cigna's Youtube: (Featuring CEO Susan Kodama)
November 20th, 2014 | Smiles Across America: Oral Health America & Healthy Smiles Partnership
Oral Health America (OHA) proudly welcomed Healthy Smiles into the Smiles Across America (SAA) network. The new partnership included a $20,000 grant for the 2014-2015 school year that will help our organization increase access to dental services for at-risk children in the Central Valley! To commemorate the partnership, a "Brush-a-Thon" was co-hosted by OHA and Healthy Smiles at the late Dr. Kodama's alma mater, Houghton-Kearney Elementary School. Speakers at the event included Susan Kodama, President & CEO of Healthy Smiles; her daughter Aimi Kodama; Central Unified Superintendent Mike Berg; Ana Pimentel, Assistant Director for the Fresno Economic Opportunities Commission; Tai Hartman, Executive Program Director for Healthy Smiles; and Beth Truett, President and CEO of OHA. The "Brush-a-thon" provided a fun, hands-on experience for the students to learn healthy toothbrushing habits.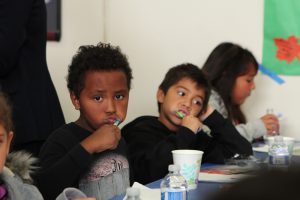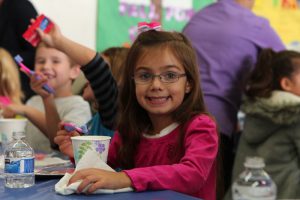 OHA started Smiles Across America in 2004 by supporting dental services in school-based and school-linked settings to provideoral disease prevention services for children who are underserved/uninsured due to poverty related issues: lack of resources, transportation, low literacy, etc. Today, the program reaches more than 440,000 children.
We are so excited and grateful for this wonderful opportunity and the help it will bring our Valley children!

June 30th, 2014 | CSN Love
After a day of serving the Central Valley Children's Services Network, we had kind words sent our way by the program Assistant Manager, Evangelina Reynoso-Moore.
"YOU HAVE AN AMAZING TEAM FRONT TO BACK AND BACK TO FRONT!!! I AM IN AWE OF THEIR SKILLS AND WARMTH THEY SHOW THE CHILDREN. Gifted Beyond the ordinary. These special events can only be successful with the passion your staff show us all!"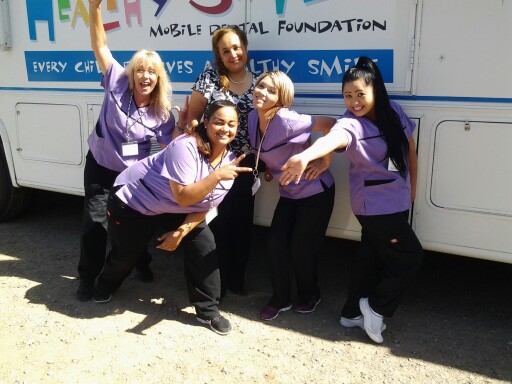 June 23rd, 2014 | Smile For a Lifetime Foundation
A young man named Anthony has recently joined up with Healthy Smiles as part of his community service for the Smile For a Lifetime Foundation! The Smile For a Lifetime Foundation is a wonderful non-profit organization that provides orthodontic services to children who may otherwise not have the opportunity for treatment, so long as they meet certain qualifications:
QUALIFICATIONS
Fresno or Clovis Resident
Ages 11-17
Income no more than 185% of the poverty level
Significant aesthetic need for braces
2.0 Academic GPA
Follows treatment plan and commitment to keep all appointments
Positive attitude
Completes 40 hours of community service during treatment

Anthony attends Bullard High School and enjoys his math and P.E. classes; he is also partial to his English class and an avid reader. He will be working alongside Healthy Smiles to provide dental education in the Valley. We wish him the best of luck and are very excited to welcome him to the team!
Check out the Smile For a Lifetime Foundation website HERE!
June 9th, 2014 | Dr. Wayne I. Kodama Memorial Scholarship 
Just this year, Houghton-Kearney Elementary School established a new memorial scholarship in honor of the late Dr. Kodama. The award recognizes two students that demonstrate academic excellence and dedication to community service. The students are each awarded scholarship funds upon their graduation from high school to help continue their college educations. Meet this year's scholarship recipients: Hope Ocegueda and Destani Fisher!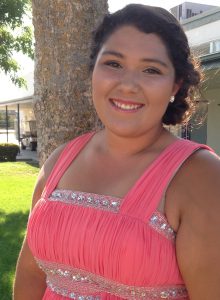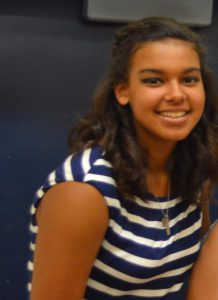 Hope (left) and Destani (right) are both rising freshmen at Central High School, recently graduated from Houghton-Kearney Elementary's 8th Grade Class of 2014. Both are heavily involved in various extracurriculars and community service programs, all the while performing as exemplary students. Congratulations to these lovely young ladies! We hope to see more of their accomplishments in the future.
May 6th, 2014 | Dr. Wayne I. Kodama – Child Advocacy Award Winner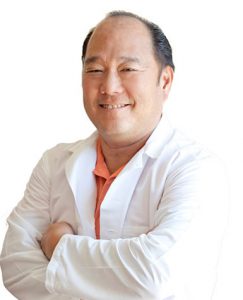 On Tuesday, May 6th, Dr. Kodama was posthumously honored with the Child Advocacy Award. His second daughter, Aimi Kodama, accepted the award on his behalf. The CYS (Comprehensive Youth Services of Fresno Inc.) Child Advocacy Awards "were designed to honor local child advocates and to increase awareness of the plight of the many children in the Fresno area who are at-risk or who have experienced abuse, neglect or exposure to violence." Dr. Kodama dedicated himself to bettering the dental health of underserved children in the Valley; bringing smiles to kids' faces and making new friends. Aimi has decided to follow in her father's footsteps and continue his legacy by pursuing a degree in dental health.
Click HERE to read and watch the ABC30 Eyewitness news video coverage.